THANK YOU TO ALL
The OPA! Outdoor Greek Festival would like to take this opportunity to thank each and every one of you that made this year a great success by either preparing food, desserts, helping with set up, volunteering during the OPA! Festival, dancing, cleaning up or by attending the Festival

~ Without of you
the OPA! Festival could not take place.
Once again, we thank you for working towards the future of the Holy Trinity Greek Orthodox Community and we look forward to next year

June 2017
OPA!!

Raffle Ticket 2017 Winners

Maria Groubos - Apple Watch
Georgia Kordas - Necklace from Karat Jewellers
Bruce Falconer - Dinner for 10 at the Hellenic Community Centre
Kostaki Botetzias - London Lightening Tickets
Andre Hubert - Travel Voucher - Blowes Travel
Thank you all for your support!!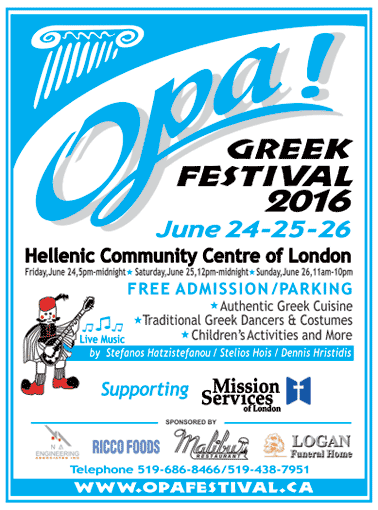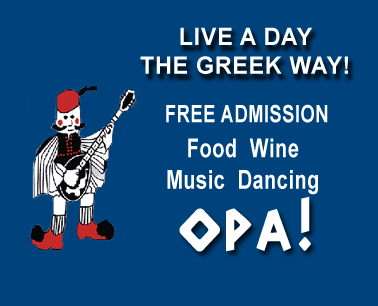 Live Band

Live music this year by Stefanos Hagistefanou, Stelios Hois & Dennis Hristidis. Dennis playing bouzouki,
violin, keyboards and drums




$2/ticket Draw date: Sun June 28, 2015 @7:30pm

Prizes are NOT REDEEMABLE for cash.

1st Prize - Travel Voucher $1,000.00

2nd Prize - Apple Watch ($525.00)

3rd Prize - Dinner at, Hellenic Community Centre

worth( $500.00)

4h Prize - Ladies Necklace ($400)

5th Prize - Four (4) Tickets London Lightning Game

(worth $200)



Frozen Yogurt
Greek World Music
Jim Babalis - London Hearing Centre
Orthodox Book Store
Cafe Lycourkos
31 Bags, Origami Owl

See more on our Vendors
See our Sponsors
Facebook: OPA! Greek Festival in London, Ontario
Twitter: @opalondon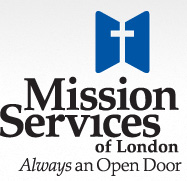 The Holy Trinity Greek Orthodox Community
Supports 2016 Charity
Whether it's providing emergency shelter for an individual or family, or caring for those with mental health needs, Mission Services of London is there with a message of hope through faith.
Mission Services of London website